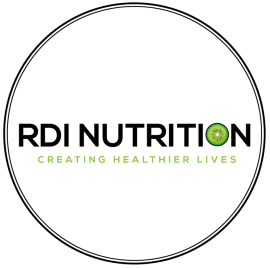 Creating Healthier Lives
Katie from RDI Nutrition is here to assist you in making better food choices.
Available at Aquamoves
Alternative days/times are available upon request but are not guaranteed
Like RDI Nutrition on Facebook
About Katie
After completing a degree in Psychology, Katie ventured to Japan to teach English and it was here that her passion for food and wellness was discovered.
Katie's travels then took her to London where she commenced and completed her post graduate studies in Nutrition and worked in the prestigious 'Food Doctor' nutrition clinic.
After returning home, Katie began consulting in nutrition and has done so now for over 10 years, working in a diverse range of health and nutrition settings.
Currently Katie and her husband are raising a young family in Shepparton and she still has a deep passion for helping people reach their health and wellness goals.
Why RDI Nutrition?
There are many reasons you might want to see a Nutritionist.
General healthy eating advice (including practical recommendations and recipes)
Advice on healthy and sustainable weight loss
Training for a sports event or trying to improve overall fitness
Support digestive issues such as Irritable Bowel Syndrome (IBS), Inflammatory Bowel Disease (IBD), bloating, indigestion, etc.
Advice on how to support an existing health condition through nutrition
Prior to your appointment, you'll be required to complete a seven day food diary, combined with a detailed questionnaire. This ensures that Katie has all the information required to assist you with your health goals.
Each client is different; however generally, two to three appointments will be required. This can of course increase or decrease, depending on the goals you've set and the amount of support you need.
Medicare does not currently provide any subsidy for Nutritionist clients, however a limited number of private health providers do offer health fund rebates. Please speak with your personal private healthcare provider for more information.
Pricing
Initial Consultation (One Hour)
Aquamoves Members: $75.00
Non-Members: $85.00
Follow-Up Consultation (30 Minutes)
Aquamoves Members: $45.00
Non-Members: $55.00
If you would like to have a consultation with Katie, please don't hesitate to get in touch by phoning 0407 289 219, emailing Katie@RDINutrition.com.au or speaking with Aquamoves Customer Service.
Testimonials from recent clients:
I loved Katie's caring attitude about people's health. She is non-judgemental and is willing to listen intently to your lifestyle and then put her knowledge to work. In the end it is up to the individual, but with Katie supporting you, it is easier to stick to your goals and achieve them.

— 58 years, Shepparton
Working with Katie to achieve my goals was such a rewarding and positive experience. She tailored a plan to suit me and my lifestyle with easy tips and realistic goals. Katie gave me all the tools I needed and she would touch base to see how I was going which was great. Her knowledge about nutrition is amazing and she truly cares and only wants the best for her clients.

— 35 years, Shepparton
I was very nervous heading into my appointment, with a sense of embarrassment about talking openly about the areas I wish to work on and areas I struggle with. Katie made it a comfortable environment with no judgement and open conversations to understand the emotional side of food for me as an individual. The advice was positive, achievable and around making permanent changes. Katie has checked in with me to see how things are going which gives a sense of encouragement and accountability along the journey to change.

— 26 years, Shepparton