November 2015 Update
Car park nearing completion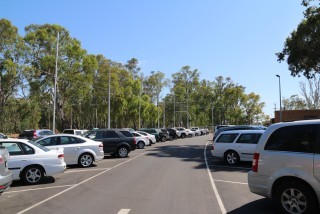 The car park is progressing well with various finishing touches to be completed in the coming weeks, such as footpaths, landscaping, pedestrian crossing lights and signage.
Unfortunately pavement conditions in the Stage One and Stage Two areas aren't suitable for the hot mix to be applied in the coming weeks, so this will have to wait for a few months. However all this means is that the surface of the north bound roadway and car parks along this section, and car parks in the 'L-shape' area won't be the nice smooth hot mix finish. All parks will be available and all other elements of the car park will be completed in the next few weeks as planned.
Although we'd all love to see the project fully completed right now, the delay of the hot mix is the best option to ensure a better long term outcome.
New outdoor change rooms are open!
We are delighted to have the newly refurbished male and female outdoor change rooms ready for the beginning of the summer season which commences Saturday 14 November.
For those of you familiar with the former appearance of these facilities, you are going to be impressed with their new look and functionality.

Please note the accessible outdoor change room is still in the process of being redeveloped, but will soon be ready for use.

The revamping of the change rooms adds to the complete interior refurbishment of the outdoor meeting rooms, first aid room and kiosk, which will all be made available for use over the coming weeks.

Note: male change rooms are blue patterned and female change rooms are orange patterned.
New dry area change rooms are open!
We're delighted to reveal our brand new fully refurbished dry area change rooms which will be open as of Thursday 12 November. We think that they look fantastic and hope that you do too.
We're aware that there's an issue with the floor tiles which appear to be unclean or marked, however our building contractor Crow Constructions will be working to rectify this over the coming months.
We wanted to open the change rooms for everyone to use and enjoy, as aside from this issue they've come up really well.
Aquamoves looks forward to continuing our great working relationship with Crow Constructions in the exciting refurbishment of the Wet Area change rooms and pool concourse which will start in December.
Note; The blue patterned are the male change rooms, yellow patterned are the female change rooms and the solid blue are the accessible change rooms.
Enjoy!