December 2015 Update
Car park is nearing completion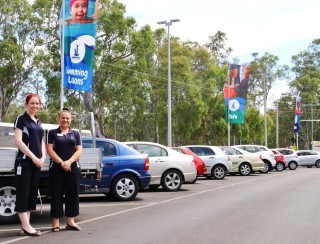 The redevelopment of the car park is almost complete, with only some final hot mix sealing to be undertaken on stages one and two of the project in the New Year.
The redevelopment has included completely new roadways and parking bays, formalisation of informal parking areas, new street and pedestrian access lighting throughout, raised pedestrian crossings with flashing lights, landscaped areas, new median pathway, a connection to the existing shared path network, flag poles with vibrant flags, and improved traffic flow.
The extensive lighting was funded through the Victorian Government, and this was officially opened on 1 December 2015.
It is hoped that the redevelopment will provide Aquamoves patrons, members and the general public with a greatly improved and safer car park.
Wet area change rooms update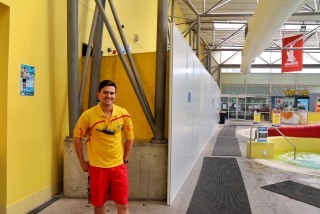 Works to undertake a complete renovation of all the wet area change rooms are progressing well.
We apologise for the noise that has been created by these redevelopments and thank everyone for their patience while they are being undertaken. Unfortunately there are still a few more weeks of putting up with this, as works will continue right throughout the festive season.

We'd like to remind you that the pool hall will close on Monday 4 January to allow for redevelopments on the pool hall surface. You can find out more information about this by clicking here.
The Splash Park shade sail is up!
Just in time for the hot summer weather, the new shade sail over the Splash Park was completed a few weeks ago.
The tensioned membrane structure is of excellent quality and will provide full shade to the southern section of the Splash Park which includes the equipment most suited to small children.
It's hoped that people will be able to enjoy longer visits at the Splash Park, given that they'll be able to stay out of the sun whilst enjoying the numerous water play features.